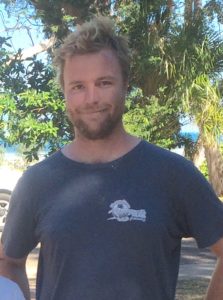 Congratulations to Tom Gelling, who recently joined PADI RTO as an authorised trainer to deliver nationally recognised vocational training on behalf of PADI RTO in Queensland. It is great to have you on board!
Tom, who has previously worked  in a marine conservation program in Cambodia , stated "I fell in love with diving after working on a marine conservation program in Cambodia and wanted to expand my skills and knowledge of the sport. I worked and travelled in the Caribbean firstly as a PADI Divemaster and then Instructor. Upon returning home to Australia I chased the sunshine and made my way to Tropical North Queensland on Magnetic Island where I have been residing for a few years now and have recently become co-owner of Pleasure Divers on Magnetic Island. I am excited to now be working with PADI RTO as a trainer and to be a part of such a renowned organisation "
If you would like to contact Tom, you can email him at info@pleasuredivers.com.au or call on 07 47785788 or connect via Facebook at https://www.facebook.com/DiveMagneticIsland/
There has never been a better time to become a PADI RTO Trainer and deliver workplace approved training on behalf of PADI RTO. If you are thinking about becoming a PADI RTO Trainer, please click here for more information or email us at rto@padi.com.au with your enquiry.