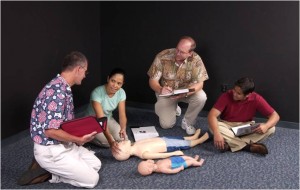 ---
Welcome to PADI's RTO and thank-you for your interest to complete your vocational training course with PADI's RTO. With nearly 50 years of experience in developing educational training materials and courses, PADI Asia Pacific Pty Ltd is a leader in vocational training in Australia. Here are some of the benefits of completing training with PADI' RTO:
Instant issuance of your statement of attainment the minute the course is completed (coming soon)
Most up-to-date training materials and courses meeting the latest governmental requirements
Experienced trainers meeting the highest teaching requirements in the industry
Pro-active Quality Management system to monitor performance of trainers
Instant online verification of Statements of Attainment issued through PADI's RTO
PADI RTO First Aid Student Materials
---
If you are looking for a PADI RTO Trainer near you, please enter your relevant location into the Course Finder and look for workplace approved training near you. You can contact the RTO Trainer directly for further information about your course.