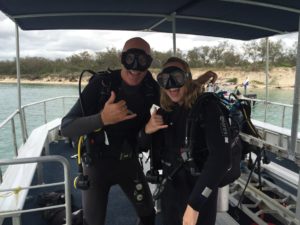 PADI RTO would like to welcome Adam Crittenden as an RTO Trainer based in Queensland. Adam became a PADI Professional member over 15 years ago and recently completed registration as a PADI RTO Trainer. The new rating will open up a world of rewarding and enriching experiences for him and Adam is excited to share his passion for the underwater world through PADI educational programs. Apart from scuba diving, Adam loves to travel and has a genuine passion for education and training.
Adam spoke to PADI RTO and stated: "Becoming a PADI RTO Trainer and being part of the PADI diving community, which is the largest in the world, has been a great personal achievement for me. I would like to acknowledge Nam Baldwin who has always been my mentor and the person who first introduced me to the PADI World. I will be forever grateful to Mark Salter (Owner of Queensland Scuba Diving Co.) who is a legend. Mark has been a great inspiration and he has guided me throughout my diving career. I am also thankful to Hans Ullrich (PADI Regional Manager), Colin Melrose (PADI Manager, Instructor Development) and Shalini Biswas (PADI RTO Coordinator) for their knowledge and assistance regarding everything related to PADI and PADI RTO. Lastly, to my diving family at Queensland Scuba Diving Co. – Anthony, Yuri, Daniel, Tomo, Vinnie and all the crew – THANK YOU!"
Welcome on board Adam, great to have you 'teaching the way the world learns to dive' in Queensland! If you wish to contact Adam, you can reach him by phone at 0404 077 844, via email to adamcritta@mac.com or look him up online at qldscubadive.com.au or on Facebook at www.facebook.com/adamcritta.